The Greene Space at WNYC and WQXR Announces Highlights for the Spring 2023 Season
Season includes live theater experiences, AAPI Month celebrations, LGBTQ+ pride events, and the annual guitar festival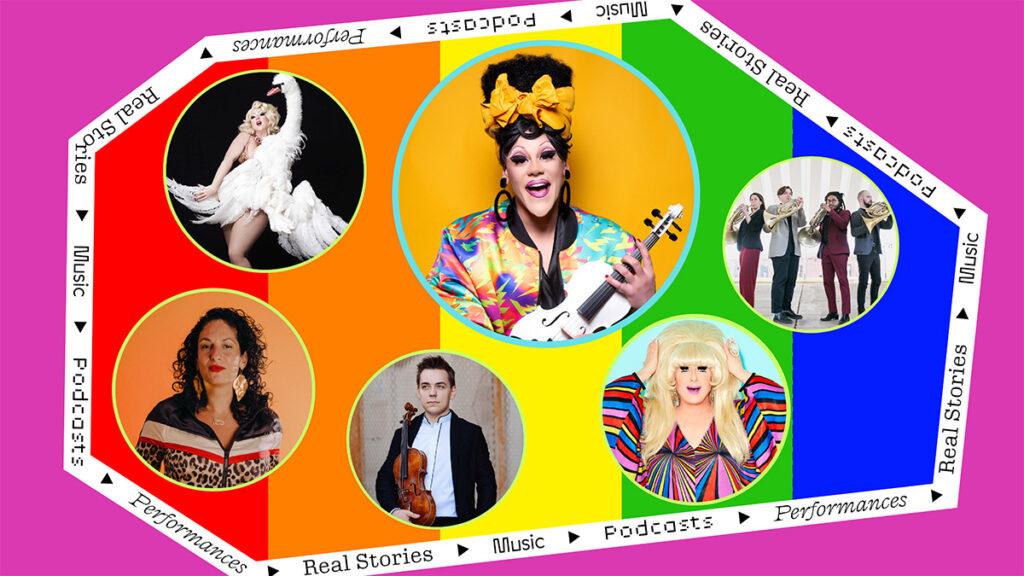 (New York, NY – May 10, 2023) – Today, The Jerome L. Greene Performance Space at WNYC and WQXR presents highlights from its upcoming season of live programming, on stage and online.
Highlights include partnerships with three premiere independent theater companies to present innovative, one-of-a-kind theatrical experiences. On May 10, theatermakers Peter Mills Weiss and Julia Mounsey, whose hit play "While You Were Partying" was described by the New York Times as "It burrows under the skin like a parasite. There has not been a day since I saw this show when I did not think about it," debut a performance on the "Crisis of Masculinity." On May 15, Artist in Residence The Civilians continue their tenure with a performance that turns people's real life flops and fiascos into song and theater. Finally, Theater of War Productions, who have been featured in The New Yorker, New York Times, NPR, BBC, and other major news outlets, present readings from Sophocles' Antigone on May 18, with a new lens that guides conversations by and for nurses.
More information and additional highlights are listed below:
The Greene Space Presents
May 10: "The Working Group" with Peter & Julia
Theatermakers Peter Mills Weiss and Julia Mounsey present The Working Group, an auto-fictional men's group engaged in tackling the "Crisis of Masculinity." This satirical performance uncovers what happens when the group meets to "better themselves" and encourages a live audience to help the actors participate in their rigorous self-surveillance.
May 15: Artist in Residence: The Civilians
For the final installment of their residency, acclaimed theater group The Civilians transform real life stories of flops and fiascos (bad dates, projects gone wrong, etc.) into a one-of-a-kind performance. First, The Brian Lehrer Show listeners will be prompted to share their stories on-air. Next, The Civilians will transform them into live song and spoken word performances on stage. The New York Times has reviewed past work by The Civilians as "an engaging inquisitive and moving work of theatre" and CurtainUp described the group as "uniquely entertaining,"
May 18: Theater of War Productions: The Nurse Antigone
Theater of War Productions present a groundbreaking project by and for nurses. The Nurse Antigone presents dramatic readings of Sophocles' Antigone—featuring professional actors and a chorus of frontline nurses—to frame powerful and guided discussions about the past, present, and future of nursing. With performances by Taylor Schilling (Orange is the New Black), Ato Blankson-Wood (When They See Us), David Strathairn (Nomadland), Adepero Oduye (12 Years a Slave), Anthony Edwards (Top Gun), New York City Public Advocate Jumaane Williams, and more!
May 25: The Great Clit Debate
Award-winning science journalist Rachel E. Gross (The New York Times, Scientific American) and artist Sophia Wallace, two of the foremost thinkers when it comes to the clitoris and female sexuality, will take us on a wild ride into the female body and intimate self-knowledge. In this variety show, guests will be gently reacquainted with the clitoris and vulva through an interactive craft activity, clit jeopardy, and an onstage debate where the audience will settle a heated question: what has done more for the clitoris: art or science?

June 14: Ballroom Has Something To Say 
Artist and educator Michael Roberson examines the history of the once underground Black and Latinx ballroom community from its roots during the Harlem Renaissance, viewing it as a Black trans-womanist theological discourse, a Black freedom movement, and a spiritual formation. The evening will explore the community's artistic and cultural productions as survival methods in the face of oppression and how they used the art form "vogue" and the creation of kinship systems as political movements. The program is another installment of The Greene Space's showcase, "Wanderlust Wednesdays." 
WQXR LIVE
May 24: WQXR Celebrates Asian American Pacific Islander Heritage Month
Join WQXR and The Greene Space in celebrating Asian American Pacific Islander Heritage Month with two-time GRAMMY Award-winning artist and cellist Andrew Yee! Featured artists include violinist Anne Akiko Meyers who has been praised by the Los Angeles Times for her "vigorous mastery, unflinching technical skills, and stylish elegance." The evening will also feature Avery Fisher Career Grant recipient and Korean percussionist Ji Su Jung and pianist David Fung.
June 1: Queen of the Night with Thorgy Thor: PRIDE
Thorgy Thor is BACK for an epic Pride Month kick-off celebration! Join WQXR and The Greene Space for a festive evening as drag star Thorgy Thor (RuPaul's Drag Race, HBO's We're Here) brings the laughter and fun, and invites LGBTQ+ artists to perform on stage.
NEW SOUNDS LIVE
June 12-13: New York Guitar Festival
The New York Guitar Festival returns to The Greene Space for an action-packed two-part series! Kicking off the first night is The Late Show with Stephan Colbert house band guitarist Louis Cato, classical Korean guitarist JIJI, alt-folk artist Steve Gunn, and guitarist Sessa presents the sounds of his native Brazil, but with a lean quality reminiscent of Leonard Cohen. Closing out the festival is GRAMMY Award-winning jazz guitarist Bill Frisell with Luke Bergman, JIJI with an encore, jazz guitarist Brandon Ross & Stomu Takeishi presents "For Living Lovers," and inventive finger-style guitarist Yasmin Williams who will upend your ideas of what a guitar is. New Sounds host John Schaefer will speak with the musicians on stage. 
Tickets and additional details for each event may be found at https://thegreenespace.org/events/.
Lead philanthropic support for The Jerome L. Greene Performance Space is provided by The Jerome L. Greene Foundation. Additional support for The Greene Space comes from the Howard Gilman Foundation, MetLife Foundation, the Virginia B. Toulmin Foundation and public funds from the New York City Department of Cultural Affairs in partnership with the City Council.
ABOUT THE JEROME L. GREENE PERFORMANCE SPACE 
The Greene Space is New York Public Radio's intimate performance space and multiplatform production studio with a mission to channel the collective genius of New York City to produce forward-looking live art, theater, and journalism that sparks change. It provides a space for fostering artistic experimentation and exploration, convening challenging conversations and forging connections between New York City's diverse communities. Since 2009, The Greene Space has hosted luminaries including Janelle Monáe and The National, actors Frances McDormand and the late Philip Seymour Hoffman, writers Nikki Giovanni, Hilton Als, and Roxane Gay, and newsmakers Mayor Bill de Blasio and Chelsea Manning, among many others. For more information, visit www.thegreenespace.org.