WNYC Studios introduces a new season of MORE PERFECT, the podcast series about the Supreme Court's most significant rulings and their impact today
Critically-acclaimed podcast returns with stories on a key ruling around religious freedom and a look at Justice Clarence Thomas' early engagement with the teachings of Black nationalism
Debuts Thursday, May 11
Listen to the season "preamble" with host Julia Longoria here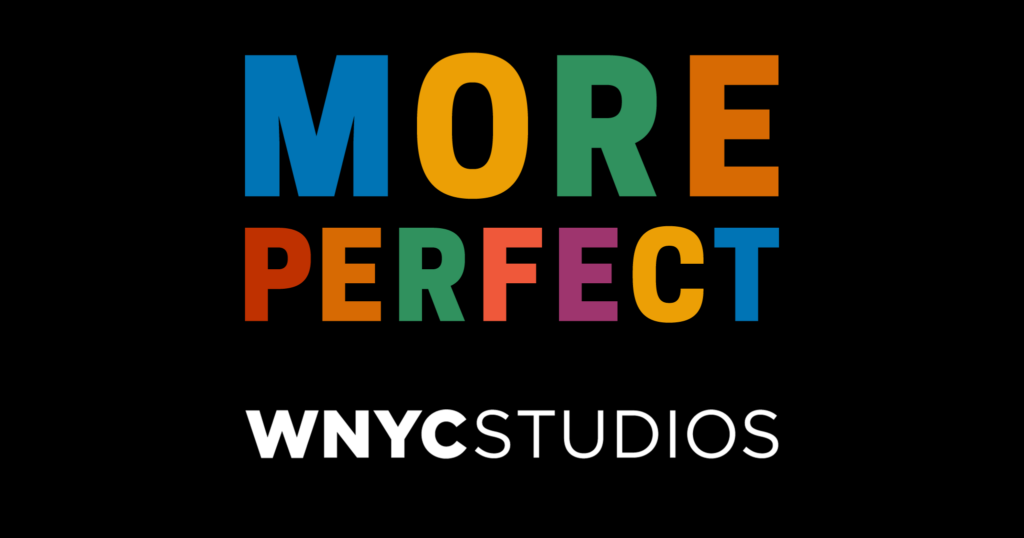 (New York, NY – May 4, 2023) – On Thursday, May 11, WNYC Studios launches a new, 12-part season of More Perfect, the Supreme Court podcast series that brings the highest court of the land down to earth.
In the years since More Perfect debuted as Radiolab's first-ever spinoff in 2017, Americans' awareness of the judicial branch – long considered above the political fray – has grown. At the same time, public trust in the court has decreased, press scrutiny has intensified, and long-standing rulings, most notably Roe v. Wade, have been overturned.
The new season, hosted by Julia Longoria (former host of The Experiment, a co-production of WNYC Studios and The Atlantic, and one of the original More Perfect producers), will revisit the human dramas at the Court that are driving change around core aspects of American life today — from our religious freedom to our artistic expression; from our reproductive choices to our voice in democracy.
The debut episode will dive into the religion debate that's vexed the Court for the last several terms by telling the little-known story of Al Smith, a Native American man who was fired for ingesting peyote at a religious ceremony. His case set off a debate about when religion allows believers to sidestep the law – a question posed to the Court once again this term in a case about denying services to gay couples. (May 11). The second episode attempts to dive into the mind of Justice Clarence Thomas. Drawing on his speeches and writings – and interviews with people who have known him well – More Perfect traces some of the puzzling conclusions he reaches on the bench to unexpected origins: the ideas of Malcolm X, which he listened to on records in college. (May 18).
Later, the series tackles the landmark abortion case Dobbs vs. Jackson Women's Health Organization and the concept of the "viability line," which became entrenched in the abortion rights movement and was at the core of Roe v. Wade (June 1 and 8).
Additional episodes will explore the following stories:
An analysis of the intensely private and now-retired Justice David Souter and how his relationship with his supporters led to the conservative court we have today
A photographer's case against Andy Warhol and the nuances behind the legal doctrine of fair use
A historical look at the Federalist Society and how, in 2016, their influence on Supreme Court appointees catapulted the conservative group into national spotlight
The Supreme Court's role in democracy, gerrymandering, and voting, including the cases involving Alabama and North Carolina's redistricting plans
Timely updates to previous More Perfect episodes including, "How The Supreme Court Got Supreme," a deep dive into judicial supremacy; "Political Thicket," about how the Court got so political; and "Adoptive Couple v. Baby Girl," a story about a legal battle that entangled a biological father, a heartbroken couple, and the troubling history of Native American children taken from their families.
"We all seem to have made up our minds about the Supreme Court right now: it's either restoring justice or destroying America," said host Julia Longoria. "That divide – and the way the Court speaks in legalese – make it difficult to understand the nuances behind what is actually happening. Our mission at More Perfect is to pay close attention, ask hard questions, and unearth the personal dramas that have unfolded there to help explain how we got to this moment today."
"This new season brings us historic cases that have led to debates happening today around some of our nation's most pressing issues," said Kenya Young, Senior Vice President, WNYC Studios. "More Perfect is an essential contribution to WNYC Studios' mission to tell deeply-reported, well-produced stories that illuminate the historical events that have shaped our democracy, and explain why they are relevant to our lives today."
Guests this season include:
Khiara Bridges, professor of Law at UC Berkeley specializing in race, class and reproductive rights
Mary Browning, anti-abortion lawyer and legal advisor for the Justice Foundation who wrote an amicus brief in Dobbs v. Jackson Women's Health Organization
Kaila Farrell-Smith, artist and daughter of Native American man Al Smith, the plaintiff in the landmark religious freedom case Employment Division, Department of Human Resources of Oregon v. Smith
Charles Fried, professor of Law at Harvard Law School and former Solicitor General under Ronald Reagan
Heather Gerken, Dean of Yale Law School and former clerk of Justice Souter
Recording artist and founder of hip-hop group 2 Live Crew David Hobbes aka DJ Mr. Mixx
New Yorker staff writer Andrew Marantz
Senior staff attorney at the Native American Rights fund Steve Moore
Elie Mystal, former More Perfect legal advisor, lawyer, and Justice correspondent at The Nation
Judge Jon Newman, Senior Judge on the Second Circuit Court of Appeals who unknowingly inspired the outcome in Roe v. Wade
Lee Liberman Otis, co-founder, senior vice president, and faculty division director of the Federalist Society
Corey Robin, political science professor at City University of New York and Clarence Thomas biographer
Judge Peter Rubin of Massachusetts Appeals Court, lawyer for Vice President Al Gore in Bush v. Gore, and former clerk of Justice Souter
Dr. Shelley Sella, retired all-trimester abortion doctor
Juan Williams, Fox News correspondent and author of the influential 1981 Washington Post piece profiling Justice Clarence Thomas
Legal advisors for this season include: Jeannie Suk Gersen, Harvard Law professor and New Yorker writer; Yale Law professor Sam Moyn; and University of Texas Law professor Tara Grove.
More Perfect is available at moreperfectpodcast.org and all other platforms where podcasts are available.
Support for More Perfect is provided in part by The Smart Family Fund.
ABOUT WNYC STUDIOS
WNYC Studios is the premier producer of on-demand and broadcast audio, and home to some of the industry's most critically acclaimed and popular podcasts, including Radiolab, On the Media, La Brega, The New Yorker Radio Hour, Death, Sex & Money, and Notes from America with Kai Wright. WNYC Studios is leading the new golden age in audio with podcasts and national radio programs that inform, inspire, and delight millions of curious and highly engaged listeners across digital, mobile, and broadcast platforms. Programs include personal narratives, deep journalism, revealing interviews, and smart entertainment as varied and intimate as the human voice itself. For more information, visit wnycstudios.org.