WQXR Announces 2023 Roster of ARTIST PROPULSION LAB Musicians
Five innovative artists will create and present new works across WQXR's on-air, digital and live event platforms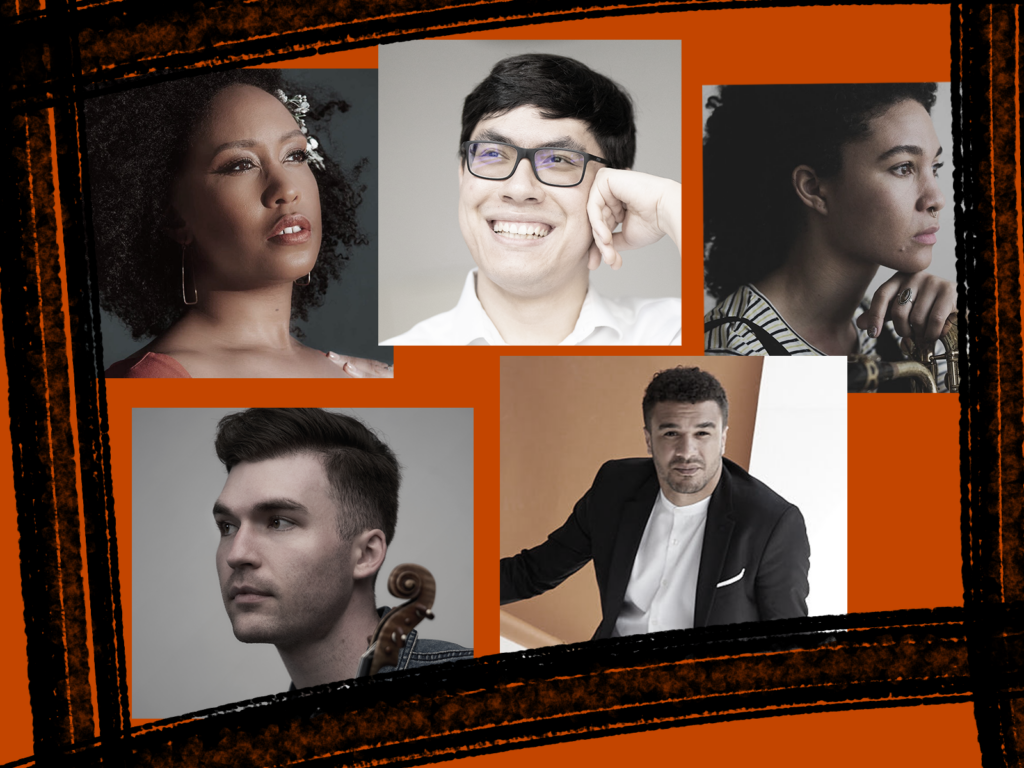 (New York, NY — January 17, 2023) — WQXR today announced its 2023 roster of Artist Propulsion Lab (APL) participants. The APL is the station's innovative program designed to support classical music artists in the creation of original work and in connecting with new audiences.
As part of the APL, five new artists – Zlatomir Fung, Briana Hunter, Alexi Kenney, Curtis Stewart, and Shelley Washington – will be given the space and support to create new work and to share their diverse perspectives and projects with radio, digital and in-person audiences. Each artist is committed to expanding conventional ideas about Western classical music and making the artform more relevant to a new generation of listeners.
The APL was founded during the early days of the pandemic to support musicians when live performance came to a standstill. The program now continues as a way to give artists a venue for experimentation and greater exposure for their work.
Over 100 artists were nominated by a committee of over 55 experts in the music field, including presenters, educators, and leaders at organizations that support young musicians. A team of producers, hosts, and project managers reviewed the entries and made the final selections.
"The APL is an expression of WQXR's commitment to connecting the artists who are reimagining classical music to our audience and the larger performing arts community in NYC," said WQXR Chief Content Officer and Senior Vice President Ed Yim. "With our digital platforms and live event venue, The Greene Space, we're able to provide these important voices with the support they need to create adventurous work and take full advantage of our multiplatform capabilities to connect with new audiences. The 2023 artists share our mission of making classical music relevant to the next generation of listeners, and we are all inspired by the energy they bring to the genre."
"Artist Propulsion Lab was an incredible experience for me," says flutist Brandon Patrick George, a member of the first class of 2021. "It allowed me to pursue projects that spoke to my own interests as an artist and to fully express myself on a musical and intellectual level. APL has empowered me to move forward in my career knowing that my own story and artistic choices can help make meaningful connections with audiences. The impact of the WQXR platform to promote my work, as well as the financial investment during the early stages of my career, is immeasurable."
Past projects by the first two classes of APL members can be found on our website.
The five members of the Artist Propulsion Lab Class of 2023 represent a diverse range of genres and perspectives:
The first American in four decades and the youngest musician ever to win the first prize at the International Tchaikovsky Competition Cello Division, Zlatomir Fung has already proven himself to be a star among the next generation of world-class musicians. A recipient of the Borletti-Buitoni Trust Fellowship 2022 and a 2020 Avery Fisher Career Grant, Fung's impeccable technique demonstrates mastery of the canon and exceptional insight into the depths of contemporary repertoire. A winner of the 2017 Young Concert Artists International Auditions and the 2017 Astral National Auditions, Fung has also taken the top prizes at the 2018 Alice & Eleonore Schoenfeld International String Competition and the 2016 George Enescu International Cello Competition. Of Bulgarian-Chinese heritage, Fung began playing cello at age three. He studied at The Juilliard School under Richard Aaron and Timothy Eddy. In addition to music, he enjoys cinema, reading, and blitz chess.
Briana Hunter has been hailed by Opera News as "a mesmerizing mezzo-soprano with a fiery theatrical presence and dynamic vocalism." Ms. Hunter's 2022/2023 season began with her Los Angeles Opera debut as Katie Ellen in Omar by Michael Abels and Rhiannon Giddens. In 2023, she debuts with Intermountain Opera as the Witch in Into the Woods and makes her long-anticipated return to the Washington National Opera stage as the Mother in Blue by Tesori and Thompson. An accomplished stage actress, Ms. Hunter has worked with Tony and Academy Award-winning playwright Mark Medoff in a production of his play Gunfighter–A Gulf War Chronicle. Under the direction of the Royal Shakespeare Company, she developed and starred in an original double bill titled Infinite Variety/For Every Passion Something, which had a two-week run at the Fringe Festival in Scotland. At the Manhattan School of Music, she performed in the institution's first-ever production of The Vagina Monologues and sang with the American Musical Theater Ensemble for productions of Godspell and Ragtime. Ms. Hunter is a Lotte Lenya Competition finalist and winner of the Lys Symonette Award from The Kurt Weill Foundation for Music. She holds a M.M. from the Manhattan School of Music and a B.A. from Davidson College. Originally from Malvern, Pennsylvania, she currently resides in New York City.
Violinist Alexi Kenney is forging a career that defies categorization, following his interests, intuition, and heart. He has appeared as soloist with the Cleveland Orchestra, Pittsburgh Symphony, Detroit Symphony, Orchestre de la Suisse Romande, Indianapolis Symphony, and St. Paul Chamber Orchestra, among many others; in recital at Wigmore Hall, Carnegie Hall, 92nd Street Y, and the Isabella Stewart Gardner Museum; and in a play-conduct role as guest leader of the Mahler Chamber Orchestra. In early 2023, he debuts Shifting Ground, a solo violin recital that interweaves Bach with contemporary works (including two commissioned compositions by Salina Fisher and Angélica Negrón), at Cal Performances, Celebrity Series Boston, Princeton University Concerts, and the Phillips Collection. A sought-after chamber musician, Alexi regularly performs at festivals including Chamber Music Northwest, ChamberFest Cleveland, Gstaad Menuhin Festival, La Jolla, Marlboro, Ojai, Seattle, and Spoleto, and as a member of the new quartet collective Owls, alongside violist Ayane Kozasa, cellist Gabe Cabezas, and cellist/composer Paul Wiancko. He is an alum of the Bowers Program (formerly CMS 2) at the Chamber Music Society of Lincoln Center. Recipient of a Borletti-Buitoni Trust Award and an Avery Fisher Career Grant, and winner of the Concert Artists Guild Competition, he has been profiled by The New York Times and Strings Magazine,and written for The Strad. Born in Palo Alto, California, Alexi received an Artist Diploma from the New England Conservatory, where he studied with Donald Weilerstein and Miriam Fried. He plays a violin made by Stefan-Peter Greiner in 2009 and a bow by François-Nicolas Voirin. Outside of music, Alexi enjoys cataloging his favorite New York restaurants, educating himself about architecture and art history, baking for friends, walking for miles on end in whichever city he finds himself, and listening to podcasts, Björk, and Bach.
Curtis Stewart is a multi-Grammy-nominated violinist/composer who enjoys bouncing between MTV specials with Wyclef Jean and sold out shows at Madison Square Garden with Stevie Wonder, stints at the Kennedy Center with the Jimmy Heath Big Band and runs at the Guggenheim, MoMA and Whitney Museums in NYC. Curtis has performed as a classical soloist at Lincoln Center and with the New York Philharmonic Bandwagon, as well as held chamber music residencies at Carnegie Hall, the MET Museum and National Sawdust. His work realizes a vision to find personal and powerful connections between styles, cultures, and music. Stewart was recently named artistic director of the American Composers Orchestra, serves as faculty at The Juilliard School and director of Contemporary Music at the Perlman Music Program, and has been commissioned to write works for the Royal Conservatory of music, The Virginia Symphony, WQXR, Newport Classical Festival La Jolla Festival, The Eastman Cello Institute, The Knights, New York Festival of Song, PUBLIQuartet, and Carnegie Hall: Play/USA. www.curtisjstewart.com
Composer, vocalist and saxophonist Shelley Washington has emerged as an important and powerful voice of her generation. With an eclectic palette that draws from classical, jazz, rock, American folk, and other contemporary musical spaces, Washington's music tells memorable sonic stories that comment on current and past social narratives, both personal and observed. Washington's music has been commissioned, performed, and recorded across the United States by celebrated ensembles and performers, including Boston Lyric Opera, the Chicago Symphony Orchestra, Long Beach Opera Company, and Carnegie Hall's Ensemble Connect. Her chamber orchestra piece, Both, has recently been performed by the Los Angeles Chamber Orchestra and Aspen Festival Orchestra. Washington is a founding member of the composer collective Kinds of Kings, whose collaboratively written concerto, Nine Mothers, premiered in 2022 by Eighth Blackbird and the Cincinnati Symphony Orchestra. Washington holds a fellowship from Princeton University and received degrees from NYU Steinhardt (MM) and Truman State University (BA, MA.) As an educator, she has taught with the New York Philharmonic Very Young Composers program and the Young Composers and Improvisers Workshop. In addition, she served as Artistic Director for the Noel Pointer Foundation, where she created new opportunities for music composition. She currently teaches at NYU Steinhardt and lives in Brooklyn with her dog, Rodeo.
WQXR's Artist Propulsion Lab is supported in part by The Alphadyne Foundation. Leadership support for WQXR is provided by The Jerome L. Greene Foundation, The Carson Family Charitable Trust, the Robert and Mercedes Eichholz Foundation, and The Thompson Family Foundation.
ABOUT WQXR
WQXR is New York City's only all-classical music station, immersing listeners in the city's rich musical life on-air at 105.9FM, online at WQXR.org, and in person through live events and performances. WQXR presents new and landmark classical recordings, as well as live concerts from New York City's concert halls and performance venues, and broadcasts essential destination programs including Carnegie Hall Live, Metropolitan Opera Saturday Matinee Broadcasts, New York Philharmonic This Week, New York in Concert, This Week with Yannick, and the Young Artists Showcase. WQXR also produces podcasts that reach new audiences for the artform: The Open Ears Project, Helga, and the critically acclaimed opera podcast Aria Code. As a public radio station, WQXR is supported through the generosity of its members, donors and sponsors, making classical music relevant, accessible and inspiring for all.