Lindsay Foster Thomas Named Vice President of WNYC Studios
Thomas brings 15 years of local and national public radio and podcast experience, including key roles at Marketplace, NPR's 1A, WUNC, and Georgia Public Broadcasting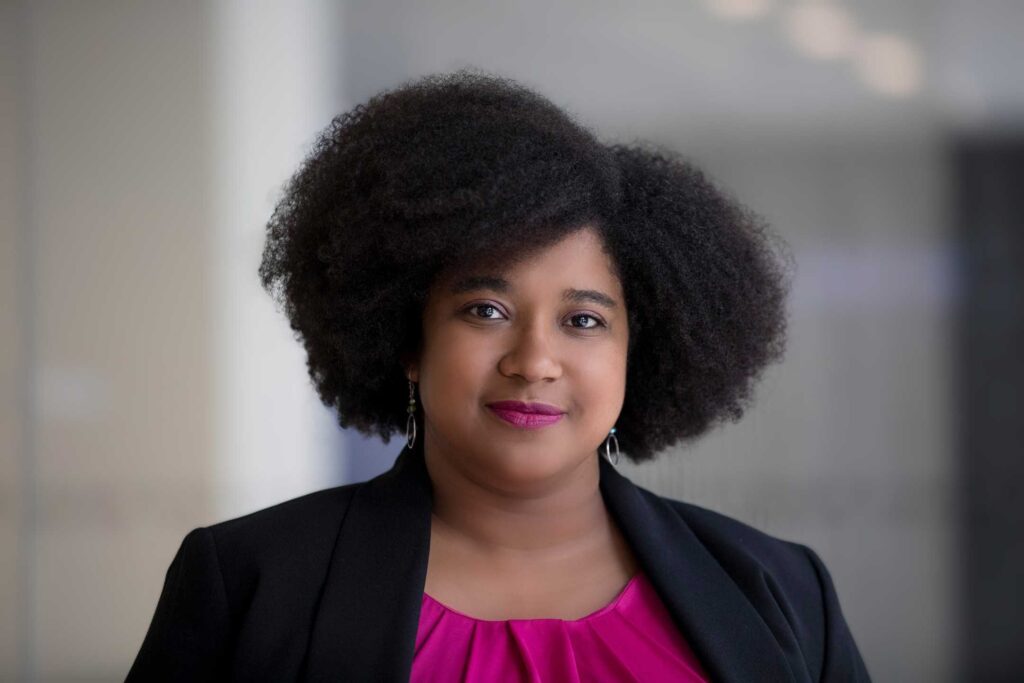 (New York, NY — June 30, 2022) – New York Public Radio announced today that Lindsay Foster Thomas has been named Vice President, WNYC Studios, home to some of the industry's most innovative, enduring and influential public radio shows and podcasts.
In this role, Thomas will oversee the strategic and editorial direction of The Takeaway with Melissa Harris-Perry, Death, Sex & Money with Anna Sale, and The United States of Anxiety with Kai Wright, as well as oversee the pipeline and development process for new talk shows. She will report to Kenya Young, who was recently appointed to Senior Vice President following a 15-year tenure at NPR, and work alongside Vice President Emily Botein. Thomas's first day is August 8.
Thomas brings over 15 years of experience in public radio, with a background that includes work at community, college and commercial radio stations. She joins WNYC Studios from WUNC, North Carolina's largest public radio station, where she served as Content Director. In that role, Thomas was the strategic lead for on-demand audio, spearheading the launch of six new podcasts, including the critically-acclaimed Embodied, Great Grief, Dating While Gray and The ARC of Justice. She also led the station's community outreach strategy, forging vital partnerships with content creators and community voices. Her passion and dedication to expanding the reach of public radio inspired the development of The Story Stables, a new children's podcast that serves early readers from Black communities.
Prior to WUNC, Thomas held roles at WAMU, where she was part of the national production team that launched NPR's daily news show 1A and then served as its senior managing producer. At Marketplace from American Public Media, she helped create the groundbreaking project "York & Fig," which examined gentrification through a portrait of one Los Angeles neighborhood. She was also senior producer for the first iteration of the talk show On Second Thought from Georgia Public Broadcasting. 
"I've been an admirer of Lindsay's work for a long time," said Kenya Young, Senior Vice President, WNYC Studios. "Throughout her impressive years in public media, Lindsay has shown she's committed to shaping content that engages and fully reflects the public we serve. She has fearlessly pushed new programs to reach broader and more diverse audiences and earned a reputation for creating opportunities to welcome and foster new talent and voices. I'm incredibly excited to start this next chapter for WNYC Studios with Lindsay on the team."
"I have studied WNYC Studios for years," said Lindsay Foster Thomas. "I'm not only a fan of Studios' excellent content and creative spirit; I also see it as a model for how public radio stations can lead innovation in audio and build lasting connections with non-traditional audiences. It's an honor to be a part of Studios, where teams demonstrate the vast possibilities of representative media with the space they create for new voices and ideas. The chance to work directly with Kenya Young and Emily Botein, a pair of editorial powerhouses whose work I admire deeply, will provide daily inspiration."
Thomas's work has been honored by the National Association of Black Journalists, the Radio Television Digital News Association, the Alliance for Women in Media, the Society of Professional Journalists and a number of other prestigious organizations.  She is a graduate of Columbia University's School of Journalism and Hampton University.
ABOUT WNYC STUDIOS
WNYC Studios is the premier producer of on-demand and broadcast audio, and home to some of the industry's most critically acclaimed and popular podcasts, including Radiolab, On the Media, The New Yorker Radio Hour, The Takeaway, Death, Sex & Money, Dolly Parton's America, The United States of Anxiety and La Brega: Stories of the Puerto Rican Experience. WNYC Studios is leading the new golden age in audio with podcasts and national radio programs that inform, inspire, and delight millions of curious and highly engaged listeners across digital, mobile, and broadcast platforms. Programs include personal narratives, deep journalism, revealing interviews, and smart entertainment as varied and intimate as the human voice itself. For more information, visit wnycstudios.org