WNYC Studios and The Bell present: "Keeping Score"
New podcast series documents a year inside a divided Brooklyn school building trying to unite through sports
Hosted by Alana Casanova-Burgess and reported in partnership with The Bell, a nonprofit organization that prepares NYC students from underrepresented backgrounds for journalism careers
"KEEPING SCORE" is the second production of WNYC Studios new Documentary Unit
Launches Thursday, June 9th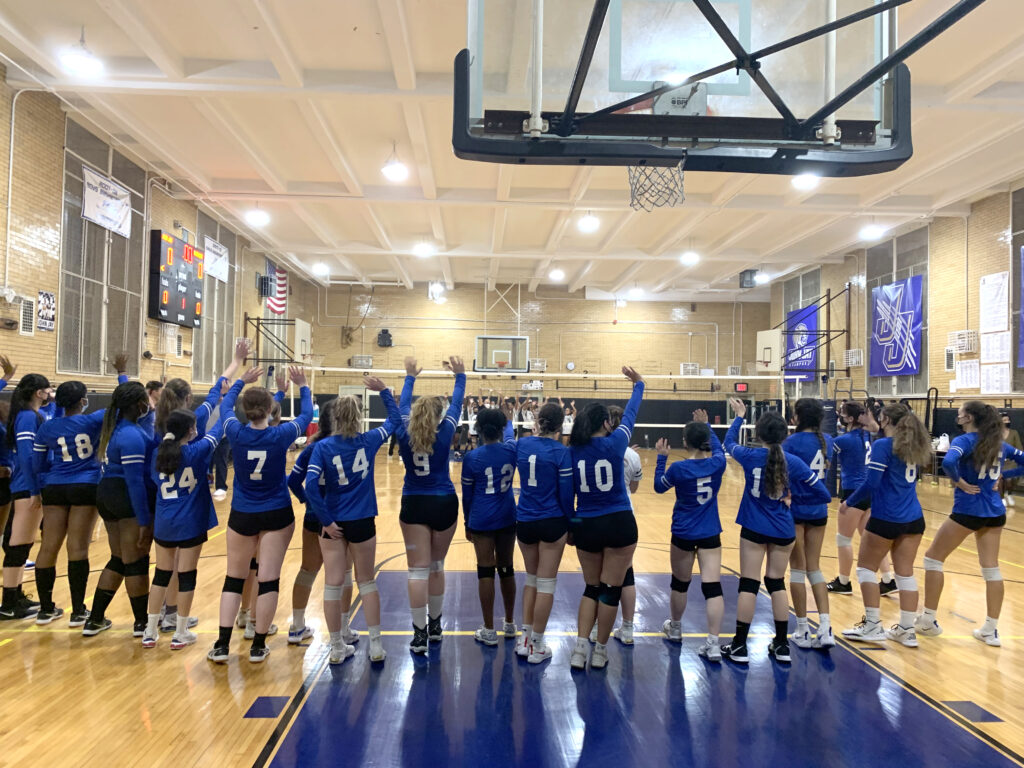 (New York, NY — June 6, 2022) – WNYC Studios today announced the upcoming launch of "Keeping Score" – a four-part narrative podcast series exploring structural inequities inside a shared high school campus – and how the students and teachers attempt to overcome them on the girls volleyball team. "Keeping Score" debuts Thursday, June 9th in The United States of Anxiety podcast feed. Listen to an interview with Casanova-Burgess on the upcoming series here.
Hosted by WNYC's Alana Casanova-Burgess, with additional reporting by WNYC education reporter Jessica Gould, "Keeping Score" takes listeners inside the John Jay Educational Campus in Park Slope, Brooklyn, a single building that is home to four individual high schools and two separate athletic programs: one for Millennium, whose student body is disproportionately white, and one for the three other schools in the building, whose students are mostly Black and Latinx. The disparities were palpable. This past academic year, the two athletics programs merged for the first time.
Casanova-Burgess, host of the critically-acclaimed dual language podcast series "La Brega: Stories of the Puerto Rican Experience," worked with student reporters from all four schools to document the merger in real time, and explore what it means for the schools moving forward. Spotlighting the voices of students who've come of age in a segregated school system, "Keeping Score" chronicles how hard it is to overcome and reverse entrenched racial inequities, even in a community eager for change.
"As a student on the John Jay campus, I've always felt separated from the other three schools," said Renika Jack, a student journalist with The Bell. "Helping report this series allowed me to make bonds with students from the other schools and understand what it's like to go to school from their perspective. It opened my eyes to a lot of things I was blinded to."
"Keeping Score" is the second production of the WNYC Studios Documentary Unit, a new initiative dedicated to producing ambitious, non-fiction long-form audio works. The debut production of the Documentary Unit, "Dead End," covered the unsolved 2014 deaths of NJ political couple John and Joyce Sheridan and helped prompt the opening of an investigation into the case.
Episode descriptions are as follows:
Part One
6/9/22
The John Jay Educational Complex, a large brick building in Park Slope, Brooklyn, houses four high schools: Cyberarts Studio Academy, the Secondary School for Law, Millennium Brooklyn, and Park Slope Collegiate. Each school is its own separate universe, but the students yearn to connect. When the administration announces that the athletics programs will merge, they ask what it will take for the building to live up to its new motto: "We Are One."
Part Two
6/16/22
Mariah Morgan, a junior at Park Slope Collegiate and setter on the girls varsity volleyball team, was an early supporter of the merger – she helped lobby for it as a member of the Campus Council. But her optimism is tested when practice starts. To understand the building's complicated history, "Keeping Score" explores how Millennium came to be at John Jay in the first place, and why the campaign to merge the athletics programs began.
Part Three
6/23/22
What does it mean to lead a team in an anti-racist way? Coach Mike Salak gets strong feedback from Mariah and other students and decides to change his tactics. But as the girls volleyball practices lead into tournaments, it's clear that who gets to play continues to be a divisive issue.
Part Four
6/30/22
The series ends with a final test for the Jaguars at the city championship. After the final point has been scored, members of the team try to assess their success. And what about the success of the merger? Students and coaches look at how the integration played out across John Jay's athletics program, and ask: was it all worth it?
"Going to high school isn't easy, and the students in this series are doing so at an incredible moment: during a global pandemic, a national reckoning with systemic racism, and against the backdrop of politically-motivated educational policies," said Host Alana Casanova-Burgess. "Yet despite these massive challenges, many students at John Jay Educational Campus are determined to make lasting change for their community. They're passionate, insightful, funny, and inspiring."
"We describe The United States of Anxiety as a show about the unfinished business of our history, and its grip on our future – which is why 'Keeping Score' fits our mission so well," said Kai Wright, Host of WNYC Studios' The United States of Anxiety. "When I heard the stories from students at John Jay, it sounded at first like a report from generations ago. How could this be 2022? In New York City? But then, I also heard their refusal to accept segregation and inequity as normal – and that's just exhilarating!"
ABOUT WNYC STUDIOS
WNYC Studios is the premier producer of on-demand and broadcast audio, and home to some of the industry's most critically acclaimed and popular podcasts, including Radiolab, On the Media, The New Yorker Radio Hour, Death, Sex & Money, Dolly Parton's America, La Brega, and The United States of Anxiety. WNYC Studios is leading the new golden age in audio with podcasts and national radio programs that inform, inspire, and delight millions of curious and highly engaged listeners across digital, mobile, and broadcast platforms. Programs include personal narratives, deep journalism, revealing interviews, and smart entertainment as varied and intimate as the human voice itself. For more information, visit wnycstudios.org.
ABOUT THE BELL
The Bell equips New York City high school students from underrepresented backgrounds with the tools to report important stories, the platforms to reach new audiences and the know-how to thrive in media professions. Its programs include the Miseducation podcast, which features original reporting on the school system from student interns across the city, and the Summer Youth Podcast Academy, which gives students three weeks of hands-on audio journalism training from professionals at Gimlet Media. In addition to its student programs, The Bell conducts research on the state of youth journalism and collaborates with a range of partners to diversify the journalism career pipeline. For more information, visit bellvoices.org.
# # #