WQXR Presents: Classical Kids Fair at the Brooklyn Children's Museum
Sunday, May 1st, 10am – 1pm & 2pm – 5pm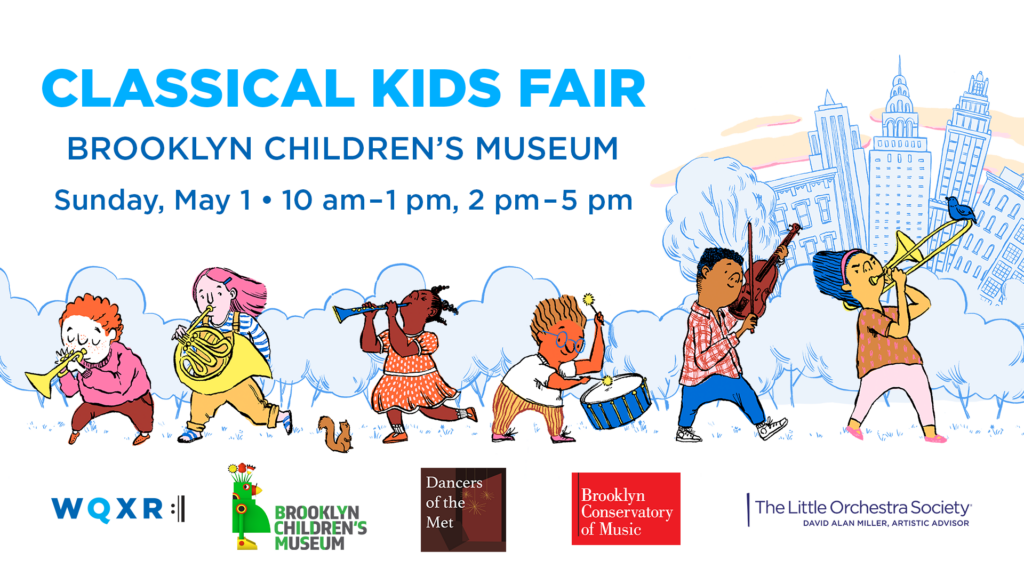 (New York, NY – April 25, 2022) – On Sunday May 1st, New York's Classical Music Station WQXR 105.9 FM and wqxr.org returns to the Brooklyn Children's Museum for a day filled with live performances, an instrument "petting zoo", dance & composition workshops, arts & crafts, and more! Participating partners include the Brooklyn Conservatory of Music, Little Orchestra Society, and dancers from the Metropolitan Opera ballet.
The event is the culmination of WQXR's first-ever Kids and Family Week. Starting today, April 25th through May 1st, WQXR will be airing specially curated radio programming (music for kids, by kids and about kids), web features, and giveaways. WQXR hosts will bring listeners daily special features woven into the WQXR playlist including: dedications to teachers, daily trivia challenges, music from beloved children's films, listening challenges, new compositions written by students from the New York Philharmonic Very Young Composers program, music inspired by children's literature, and more.
The event and live programming are part of WQXR's ongoing mission to celebrate the classical music's next generation of artists and audiences, and share pathways for kids to experience the joy, fun, and wonder of classical music on-air, online, and in-person. Learn more and purchase tickets here.
ABOUT WQXR
WQXR is New York City's only all-classical music station, immersing listeners in the city's rich musical life on-air at 105.9FM, online at WQXR.org, and in person through live events and performances. WQXR presents new and landmark classical recordings, as well as live concerts from New York City's concert halls and performance venues, and broadcasts essential destination programs including Carnegie Hall Live, Metropolitan Opera Saturday Matinee Broadcasts, New York Philharmonic This Week, New York in Concert, This Week with Yannick, and the Young Artists Showcase. WQXR also produces podcasts that reach new audiences for the artform: The Open Ears Project, Helga: The Armory Conversations in partnership with the Park Avenue Armory, and—in partnership with the Metropolitan Opera—the critically acclaimed opera podcast, Aria Code. As a public radio station, WQXR is supported through the generosity of its members, donors, and sponsors, making classical music relevant, accessible, and inspiring for all.