Radiolab from WNYC Studios presents "MIXTAPE"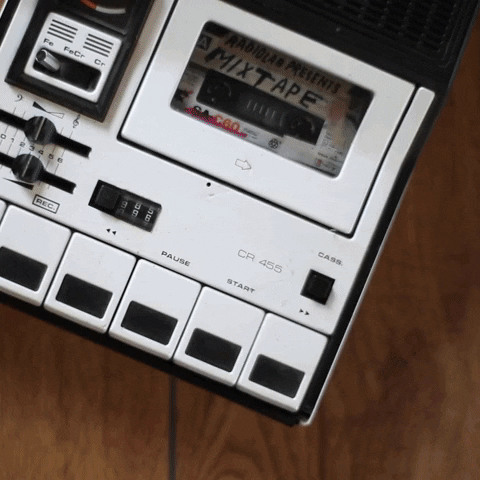 Five-part Radiolab podcast series on the intoxicating, revolutionary, and mostly forgotten history of the cassette tape 
New episodes weekly from Friday, October 22 – Friday, November 19
Listen to the trailer here
October 15, 2021 — This fall, Radiolab from WNYC Studios presents MIXTAPE, a special five- part series that explores the power of a seemingly humble piece of technology that transformed our relationship to media forever: the cassette tape. This revolutionary device was recordable, rewritable, spliceable, compact, mobile, and allowed us — for the first time — to move through the world while listening to a voice speaking only to us.
Produced, reported, scored and sound designed by Radiolab's Simon Adler — who previously reported riveting episodes on deepfakes, Facebook's Supreme Court, and rhino hunting — MIXTAPE features stories from around the world that reveal the cassette tape's impact on music, but also far beyond it. The series shows the surprising way rock and roll penetrated Communist China — through recycled cassette tapes; how this new technology fueled the fledgling self-help industry; and how sound became a weapon in the Vietnam War. MIXTAPE also features unreleased archival recordings from Bing Crosby — whose career was saved by magnetic tape, which allowed sound editing like it had literally never been done before — and an interview with his daughter, Mary Crosby. Each episode is enriched by archival material recorded on cassette tapes, creating an immersive, retro audio environment that brings the listener back to pivotal moments in audio history.
MIXTAPE episodes
Episode 1: Dǎkǒu
There was no rock and roll in China, the Communist Party had banned it. But then, a group of garbage pickers discovered an endless source of a contraband material: overproduced and trashed cassette tapes sent to China as plastic scrap. This episode tells the story of how millions of these cassettes were discovered, put back together and sold. And how this flood of music changed China.
Episode 2: Jack & Bing
In 1946 Bing Crosby, the king of media, was in crisis. His numbers were tanking and his fans were fleeing. We tell the story of how Bing and some stolen Nazi technology won his audience back, created the cassette's precursor and changed media forever.
Episode 3: Wandering Soul
Many nights during the Vietnam War, if you listened closely, you'd swear you heard a ghost. But what you were hearing in fact, was a weapon. In "Wandering Soul," MIXTAPE tells the story of this aural weapon and the ghosts of the Vietnam War that still haunt us today.
Episode 4: Cassetternet
Before there was the internet, there was the cassette tape. It allowed people to copy and move information like never before. This episode contains a duet of stories about this early internet: how software was broadcast over the radio and captured on cassette, and how the Ayatollah Khomeini built an analog social network out of cassettes and sparked the Iranian revolution.
Episode 5: Help?
The cassette tape created the self-help industry. In this episode, listeners will hear two tales of tapes made to help. One from South Sudan, where boys fleeing violence had to carry the only record of their village's history. The other, from New York, digs through a box of old mixtapes and rediscovers the power of these bygone love letters.
"I grew up making cassette mixtapes for friends and remember how radical it seemed at the time," said Radiolab Creator and Host Jad Abumrad. "What Simon has done here is make a mixtape about mixtapes, with a collection of staggeringly surprising, deeply reported stories that literally circle the globe, move us past the nostalgia, and look at real world consequences of this technology. . I think it's going to push the audience to think about the making of the modern world and our relationship to technology in a whole new way."
"With so many podcasts being made, a while back I asked myself what's a story that really should be told in this audio form?" said Simon Adler. "After stumbling across a couple of these cassette centered tales, the answer was obvious. Time and again I was surprised to learn how these 'new' problems the internet created were presaged by the cassette. They were social media before social media. They created virality and file sharing, hucksters and heroes. Oddly enough, I think we're still living in a cassette world."
It is available at https://www.wnycstudios.org/podcasts/radiolab/mixtape and all other platforms where podcasts are available.
Mixtape, a special series from Radiolab, is supported in part by Science Sandbox, a Simons Foundation Initiative, and the Alfred P. Sloan Foundation.
ABOUT WNYC STUDIOS
WNYC Studios is the premier producer of on-demand and broadcast audio, and home to some of the industry's most critically acclaimed and popular podcasts, including Radiolab, On the Media, The New Yorker Radio Hour, Death, Sex & Money, Dolly Parton's America, The Experiment, and The United States of Anxiety. WNYC Studios is leading the new golden age in audio with podcasts and national radio programs that inform, inspire, and delight millions of curious and highly engaged listeners across digital, mobile, and broadcast platforms. Programs include personal narratives, deep journalism, revealing interviews, and smart entertainment as varied and intimate as the human voice itself. For more information, visit wnycstudios.org.