WQXR PRESENTS
Composer TERENCE BLANCHARD and Aria Code's RHIANNON GIDDENS In Conversation to Discuss Blanchard's History-Making Debut of Fire Shut Up in My Bones at the Metropolitan OperaFriday, October 8 at 12 noon ET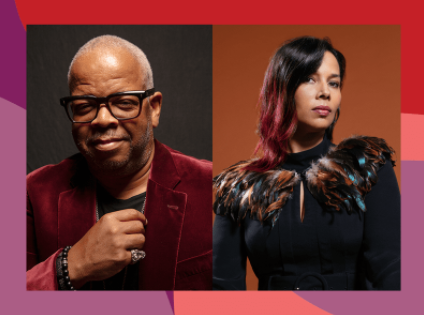 This September, Terence Blanchard's Fire Shut Up in My Bones became the first opera by a Black composer to be staged at the Metropolitan Opera.
On Friday, October 8 at 12 noon, WQXR will present a special online conversation between Rhiannon Giddens, the host of the opera podcast Aria Code from WQXR and the Metropolitan Opera, and award-winning jazz musician and composer Terence Blanchard. The two will discuss this historic premiere, Blanchard's writing process, and their shared experience of coming to opera through other genres in a live conversation at WQXR.org and WQXR's Facebook page. Audiences can RSVP here: https://ci.ovationtix.com/27445/production/1079759?performanceId=10849799

On Wednesday, October 13, Aria Code will also present an episode on Fire Shut Up in My Bones, featuring interviews with Blanchard; Will Liverman, the baritone who performs the role of Charles Blow in the Met's production; and E. Patrick Johnson, the Dean of the School of Communication and Annenberg University Professor of Performance Studies and African American Studies at Northwestern University, as well as a 2020 inductee into the American Academy of Arts and Sciences and the author of Sweet Tea: Black Gay Men of the South.
Aria Code is the acclaimed opera podcast produced in partnership by WQXR and the Metropolitan Opera, hosted by Grammy Award-winning musician Rhiannon Giddens. Hailed by the New Yorker as "elegantly constructed and effortlessly listenable," the program explores the human experience at the heart of opera's greatest arias and their powerful relevance to contemporary issues. Aria Code is available at https://www.wnycstudios.org/podcasts/aria-code and all other platforms where podcasts are available.

ABOUT WQXR
WQXR is New York City's only all-classical music station, immersing listeners in the city's rich musical life on-air at 105.9FM, online at WQXR.org, and in person through live events and performances. WQXR presents new and landmark classical recordings, as well as live concerts from New York City's concert halls and performance venues, and broadcasts essential destination programs including Carnegie Hall Live, Metropolitan Opera Saturday Matinee Broadcasts, New York Philharmonic This Week, New York in Concert, This Week with Yannick, and the Young Artists Showcase. WQXR also produces podcasts that reach new audiences for the artform: The Open Ears Project, and—in partnership with the Metropolitan Opera—the critically acclaimed opera podcast, Aria Code. As a public radio station, WQXR is supported through the generosity of its members, donors, and sponsors, making classical music relevant, accessible, and inspiring for all.