RADIOLAB AND OSM AUDIO ANNOUNCE
THE VANISHING OF HARRY PACE

A NEW PODCAST SERIES FROM JAD ABUMRAD AND SHIMA OLIAEE,
THE CREATORS OF DOLLY PARTON'S AMERICA

A Tale of Betrayal, Friendship, Hidden Identities, Crossing Color Lines, and the Unseen Influence of the Phenomenal but Forgotten Man at the Center of America's First Black-Owned Record Label

Crafted with a Team of Editorial Advisors Including Authors KIESE LAYMON and IMANI PERRY, Television Writer CORD JEFFERSON, WNYC's JAMI FLOYD and WQXR's TERRANCE McKNIGHT

Five Episode Series Launches Thursday, June 17

Listen to the Trailer HERE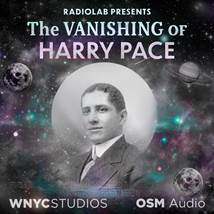 (click here for hi res)
New York – June 10, 2021 – Radiolab today announced a new upcoming series The Vanishing of Harry Pace, created by the team behind Dolly Parton's America— Jad Abumrad and Shima Oliaee.
The Vanishing of Harry Pace traces the mysterious story and unseen influence of the man who founded Black Swan Records, the first Black-owned record label in American history, and fought for Black liberation on many fronts — but who disappeared from public view and has been forgotten by history. Listen to the trailer HERE.
The series debuts Thursday, June 17 in the Radiolab podcast feed with two episodes that tell the tale of one the 20th century's most innovative Black entrepreneurs.
Ingenuity and adversity collide to create the ambitious, self-reinventing and ultimately self-erasing trajectory of the life of Harry Pace: the man who began a magazine with W.E.B. Du Bois immediately after college; a publishing business with W.C. Handy; and the Black Swan record label that billed itself as the only label making music for Black audiences by Black musicians — and skyrocketed Ethel Waters to fame. In his short life, Harry Pace also masterminded Hansberry v. Lee, which was successfully argued in front of the Supreme Court and effectively desegregated Chicago (and inspired Lorraine Hansberry's A Raisin in the Sun); founded Supreme Liberty Life, the largest insurance company serving Black people in its time; and mentored John Johnson, who created Ebony and Jet magazines.
After decades of work devoted to Black empowerment and advancement, Pace — who was light-skinned — did something utterly unexpected and seemingly out of character: he started passing for white.
The series reveals how his wife and children, fearing scandal, secreted away his incredible contributions to Black history, hiding him from view of even his own family. It then expands into a constellation of stories illuminating Pace's legacy for his family and the music industry:
Episode 3 follows Pace's descendants as they un-vanish the vanishing and try to find explanations, grappling with their own views of race, privilege and appropriation.
Episode 4 dives into the lost generation of Black classical concert singers of the early 20th century, what they were up against, and the feats accomplished by stars such as Roland Hayes.
Episode 5 follows the path of the song "Lift Every Voice and Sing," first recorded by Black Swan Records, which quite literally made its way into interstellar space.
The Vanishing of Harry Pace was crafted in collaboration with a team of editorial advisors who also contribute their voices to the series, including Emmy-winning writer Cord Jefferson (Watchmen, Succession), WNYC's Senior Editor for the Race & Justice Unit Jami Floyd, WQXR Host Terrance McKnight, best-selling author Kiese Laymon (Long Division, Heavy: An American Memoir), and Hughes-Rogers Professor of African American Studies at Princeton University Imani Perry. The series also features interviews with over 40 interviews (in new and archival recordings) with family members, musicians, historians, writers and musicologists including Hilton Als, Christopher Brooks, Tim Brooks, Congressman James E. Clyburn, Bill Doggett, Eve Dunbar, Candice Edwards, Lisa Franciskato, Gail Gage, Rhiannon Giddens, Elliot Herwitt, Margo Jefferson, Randal Maurice Jelks, Charles McKinney, Susan Olsen, Emmett G. Price III, Dwandalyn Reece, Robert Sims, Paul Slade, David Suisman, andPace family members Eric Pace, Peter Pace, Susan Pace, Lisa Franciskato, and Gail Gage.
The Vanishing of Harry Paceis inspired by Paul Slade's Black Swan Blues: The hard rise and brutal fall of America's first Black-owned record label. This story is presented in collaboration with Joe Richman and Nellie Giles at Radio Diaries.
Editorial Advisor Kiese Laymon said, "The story of Harry Pace appears to have all the trappings of American spectacle, yet I'm not sure I've heard or experienced a story, or life, that requires checking the roots and consequences of all of our Americanisms. The talented Mr. Ripley and Don Draper are junior varsity players at character revision compared to Harry Pace."
Shima Oliaee said, "It's heartbreaking that the life of this maverick who collaborated with other incredible civil rights pioneers to fight for Black self-determination and economic liberation on so many fronts has been lost for generations. His story raises just as many questions as it delivers answers, about the toll of the fight, the personal stakes and sacrifices, and the cost of being deprived of one's family and collective history. Harry Pace belongs in every account of American music and civil rights history. "
Jad Abumrad said, "This is a story about how categories ultimately fail us. Harry is such a complicated guy. He slips between binaries and doesn't fit the neat boxes we check on the census. At a time when so many of us are questioning identities and rethinking the history that got us here, this story is both an important piece of history and a very contemporary story."
Audiences can listen to the trailer and subscribe to The Vanishing of Harry Pace in the Radiolab feed on Apple Podcasts, Spotify, or wherever they get their podcasts.
ABOUT NEW YORK PUBLIC RADIO
With an urban vibrancy and a global perspective, New York Public Radio (NYPR) produces innovative public radio programs, podcasts, and live events that touch a passionate community of 23.4 million people monthly on air, online and in person. From its state-of-the-art studios in New York City, NYPR is reshaping radio for a new generation of listeners with groundbreaking, award-winning programs including Radiolab, On the Media, The Takeaway, Dolly Parton's America, Carnegie Hall Live, and Aria Code, among many others. New York Public Radio includes WNYC, WQXR, WNYC Studios, Gothamist, The Jerome L. Greene Performance Space, and New Jersey Public Radio. Further information about programs, podcasts, and stations may be found at www.nypublicradio.org.
ABOUT OSM AUDIO
OSM Audio is the production company of Jad Abumrad, host and creator of WNYC Studios' Radiolab. Shima Oliaee is lead reporter and producer at OSM Audio.